Your dress will be professionally cleaned and hand-finished by our expert team. Every single wedding gown is precious, and we care for thousands of dresses every year. That means we have experience delivering beautiful cleaning results working with specialist fabrics, dress construction and wedding dress accessories.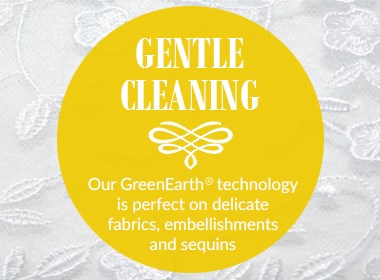 Johnsons dry clean exclusively using
GreenEarth®
- a gentle alternative to harsh chemicals used by other dry cleaners that is ideal for the delicate fabrics and detailing found on wedding dresses.
So what does this mean for you and your dress? Johnsons' dry cleaning is different;
- Most other dry cleaners will use Percholorethylene (Perc) which is petrochemical based able to remove anything from embelishments and sequins whilst vastly changing the shape of your dress.
- Non-toxic GreenEarth® cleaning is proven to help protect against shrinkage, which can be a common problem with delicate fabrics.
- GreenEarth® leaves clothes looking bright and true. Perfect for delicate fabrics, embellishments and lace. With Perc, trims can shrink or become worn. Glass buttons or sparkling sequins can melt or disappear.
Make the greener, more gentle choice when cleaning your wedding dress.

Our Specialist Centre houses a dedicated Wedding Dress Clean Room. Cleaning and finishing equipment is exclusively used for wedding dresses; a UV chamber highlights marks invisible to the naked eye – champagne is a common culprit here, yellowing fabrics years later if it isn't discovered and correctly cleaned; in our dedicated Clean Room personnel cover shoes before entering to minimise the risk of any dirt within the Clean Room facility.

We take the time it needs to give your wedding gown the care and attention it deserves; that's why it usually takes around three weeks to clean and finish your special dress. If you need it sooner, let us know and we will do everything we can to meet your date.

Wedding Gowns are folded in layers of acid-free tissue paper to prevent discolouration of the fabric and placed in a beautiful hand-finished presentation box created from specially-milled neutral board. This will protect the dress from the light whilst allowing the fabric to breathe, preserving your dress for years to come.