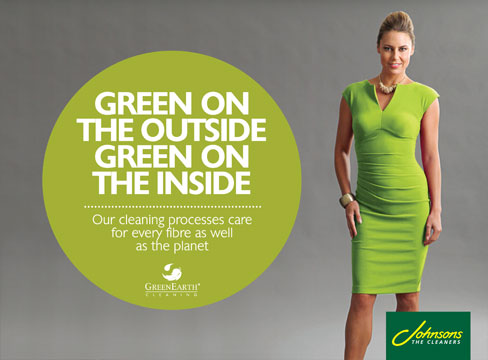 We Clean Green
How often have you picked up that must have item of clothing and noticed 'dry clean only' on the care label? 'Oh no, not only will it cost me to get this cleaned but in a short time, it won't look anywhere as good as it looked when I bought it!' Well, not all dry cleaning is the same... let us introduce you to GreenEarth Cleaning, available at Johnsons Cleaners since 2002.
GreenEarth is a much gentler clean. It doesn't chemically react with fabric fibres; it just carries the detergent to your clothes and gently carries away soils.
Colours stay bright and whites won't yellow, even after repeated cleaning. Fabrics feel better too = smooth, silky, and supple. Because GreenEarth cleans without being aggressive, your fine silks, cashmere, wool, lace, beads, sequins and even garments labelled 'Do not dry clean' are safe with us!
You Live Green
Mosy dry cleaners still use petrochemical solvent, but ours is a kinder clean. What's more, GreenEarth is environmentally non-toxic, making it safe for the planet and the people who live on it.
The pure liquid silicone used exclusively in the GreenEarth process is a clear, gentle and odourless solution that degrades into sand and trace amounts of water and carbon dioxide if spilled into the environment.
Most importantly, clothes look better for longer, giving your clothes a longer life and reducing the amount of clothing that goes to landfill.
Your Clothes Last Longer
Even though GreenEarth is much gentler, the quality is still first class and clothes will feel softer too! GreenEarth is safe for people too. If you wanted to, you could safely rub it on your skin. In fact, you could safely rub it on your skin. In fact, you probably already do. Liquid silicone is the base ingredient in many of the shampoos, conditioners, lotions and cosmetics we use every day.
Lastly, regular cleaning is so important to make sure that stains don't dry off for too long and odour doesn't build. You want to make sure that moths are not attracted to your clothing by the smell of sweet food or drink types, even if they are invisible to the eye.
A total solution that makes total sense